{{infobox song |image = File:JUMP_ON_IT.png |artist = Devaud ft. Lockyn |written = Devaud |producer = Lockyn, Devaud |coproduction = |time = 4:20 |album = Untitled Debut Album
Jump On It
Edit
"Jump On It" is a song from Devaud's debut album, which has yet to be titled. It was written in late 2013 and was recorded at an unknown date. The song features musical composure by Newgrounds user, Lockyn. 
Writing the Song
Edit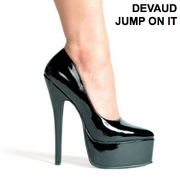 The song was written in late 2013. It was the first song to be revealed on the album. However, it was revealed on part two of the album. Devaud stated, "Part two is much more heavy with beats, part one is more softly written and is more of the songs you will want to listen to again. Part two is very hard-core dance."
Music Video

Edit
The music video will be released in mid 2014 as a teaser for Devaud's second part of his debut album. The date was released along with the lyrics, "I cannot turn to you right now. I'm sitting in the crowd. Do you need my help? Leave a message after the beeeeeep."